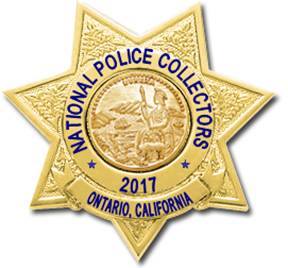 A collectable badge for the 2017 National Police Collectors Show is now available to order. The badge will replicate the 7 point, gold color star of the California Highway Patrol. The badge will be made by one of the oldest badge manufacturers in California, The Entenmann-Rovin Company.
The badge is available to CLEHS members and National Police Collectors Show table holders as a collectable keepsake only. No badges will be available for purchase at the show. Don't miss out to order a badge, delivery is expected this Spring.
The badge cost $115.00 and includes shipping to Untied States ONLY!
To make an on-line purchase and payment, please fill out the form below and ensure that all fields are completed. Also, make sure that your address is included under Shipping Information on the PayPal payment page.
If you wish to purchase a badge and pay by check, please contact:
Gary Hoving, President
California Law Enforcement Historical Society
P. O. Box 475
Pismo Beach, CA 93448-0475
Phone (805) 441-4936
Email : Calpolicehistory@aol.com